mobile. urban. green. living. innovative
Explore greening buildings at first hand.
MUGLI is our mobile exhibition space, which tours through Austria and the whole world. It allows a vivid first-hand experience of greening buildings and provides information and knowledge to a broad range of people. It is also a modular experimental space for existing and new technologies of our network partners. It generates live local climate sampling data as well as data on water and energy consumption. MUGLI is our contribution to give new momentum for more green in densely built-up cities. We want to do this together with our partners, hence our use of MUGLI as an event location for targeted stakeholder engagement and user feedback. MUGLI is available for use by network partners. 
Discover MUGLI digitally:
MUGLI shows different systems for the greening of roofs and both external and internal walls. Visitors are informed by means of a guided exhibition. Through this interactive tour you will find out which different vegetation systems are possible, how different technologies work and which technology is behind them. In addition, monitoring data on the areas are used to generate measurement data for the individual systems. Through the periscope you can explore the green roof with the wild bee hotel and the photovoltaic system. How nature can be combined with architecture shows MUGLI with the exhibition of beneficial devices such as nesting aids for swifts and wild bees. MUGLI aims to raise awareness and highlight the role of green infrastructure in cities to improve the quality of urban living.
In 2018 MUGLI started his roadshow through Austria at the first location in Vienna. In the following years MUGLI will move through the country, stopping by several Austrian cities including our partner cities St. Pölten, Linz, Graz, Salzburg and Feldkirch. Many more will follow. MUGLI provides innovative impulses for greening building projects throughout Austria.
GRÜNSTATTGRAU, with its pool of experts from business, administration and science sectors, is your competent partner for questions on greening buildings and also offers workshops tailored to specific target groups for roof and facade greening. MUGLI is used as a venue and an object of intuition.
Overview of MUGLI Services
MUGLI is coming to you
MUGLI is always happy to explore new locations and to inspire more people with the fascination of greening buildings. You want to have MUGLI for your event or a certain period of time in your city? Be part of the Roadshow!
Participate and exhibit
You want to be part of the system of our Urban Jungle? Then apply for an exhibitor space and gain visibility through MUGLI. There are only limited numbers of areas for roof, facade and interior greenery available. Being fast is worth it!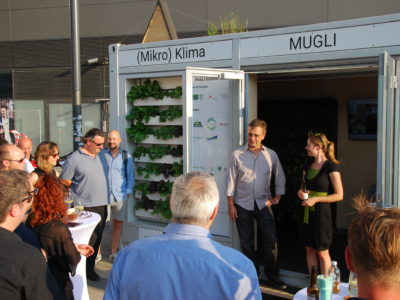 Book MUGLI for an event
Amaze your audience! MUGLI can also be used as an event location for various event formats such as stakeholder workshops, further education, lectures, exhibitions, meetings and can be booked for these events and many more.
Book a MUGLI demonstration
Discover more about the topic of greening buildings and the construction of MUGLI. Make an appointment for a personal tour (available in German and English).
MUGLI is looking forward to your visit.
Test your technology
You are working on a project and want to test your technologies. As a Living Lab, MUGLI offers you a turnkey laboratory system and enables open innovation processes. This is how technology developments and applications can be tested.
GRÜNSTATTGRAU Services
MUGLI has inspired you and you want to educate yourself or start your personal greening project? GRÜNSTATTGRAU offers numerous services and is happy to assist you.